Himax is the leading provider of semiconductor solutions dedicated to edge-AI and display imaging processing for consumer electronics brands worldwide. We believe that our globally recognized design and engineering expertise, combined with our focus on customer service and close relationships with semiconductor manufacturing service providers, has contributed to our success.

Empower AI in Extreme Edge IoT Devices
ULTRALOW POWER AI PROCESSOR
WE1 Plus, an AI accelerator-embedded ASIC platform for ultralow power applications, is designed to develop and deploy CNN-based machine learning models on battery-powered AIoT applications.
Where state-of-the-art Edge AI applications continue to be faced with large constraints in computing power, embedded memory and power supply, Himax's WE1 Plus ultralow power microprocessor is designed to address all these considerations. In addition, WE1 Plus is equipped with proprietary sensor interface that seamlessly links with Himax's ultralow power AoS (Always-on Sensor) to support fast wake-up for quick sensor image capture.
WE1 Plus is now adapted to a wide range of computer vision applications that allows the digital world to interact with the real world. It has been well received in these user scenarios: automatic meter reading, object detection, people counter, smart doorbell, occupancy management, digital signage, smart video conference, gesture recognition, etc.
WE1 Plus – Best AIoT Processor on Battery Devices
Computation Optimization
Flexible and optimized computation architecture could make AIoT devices perfectly fit blooming IoT applications with intelligence. WE1 can enable IoT devices to be smart with following excellent features:
A programmable processor with an enhanced DSP
Power-efficient image and JPEG hardware accelerator for real-time motion detection, object detection, and image processing
Optimized SRAM size to support simultaneously ultralow power vision and voice detection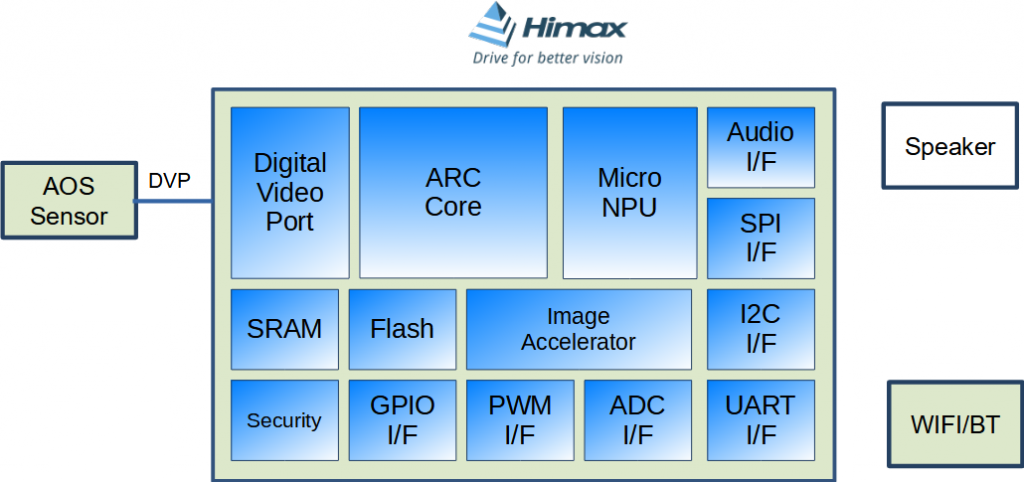 Himax Imaging offers a broad array of small pixel image sensors for different camera applications and has been integrated by some of the world's leading device manufacturers.
Class-leading ultra low power sensor operating in sub-milliwatt power range with autonomous features and super low latency operation that enables smart, battery powered Always On camera.
High performance, low power RAW image sensors with programmable readout modes, integration time, gain, and black level with 10 bit data output over MIPI serial link interface.